Receive our soles directly at your home.
Take part in a demonstration
Learn how to use solutions.
Start your trial period without any commitment.
Did you know that precision, innovation, and tailored solutions are vital in the world of foot care and orthopaedics? ScientiFeet stands at the forefront, specializing in designing and producing 3D printed orthotics insoles that redefine comfort, support, and overall well-being. With a commitment to excellence, our production of insoles combines the latest technology and the best materials available.
Let's discover what sets ScientiFeet apart as a 3D printed insoles manufacturer and why our insoles are transforming the industry.
Step 1: Create 3D insoles
Scan your patient's foot.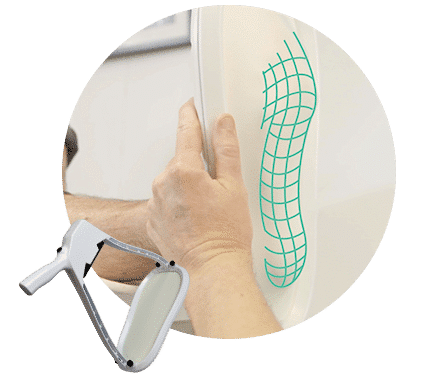 The soles are delivered in France and to foreigners directly in your office.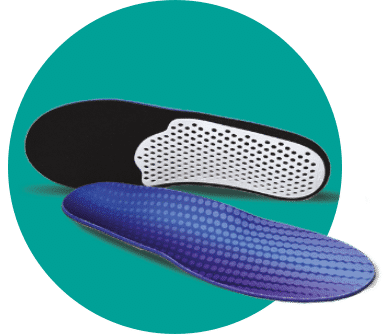 Make your diagnosis and configure the sole on our intuitive software.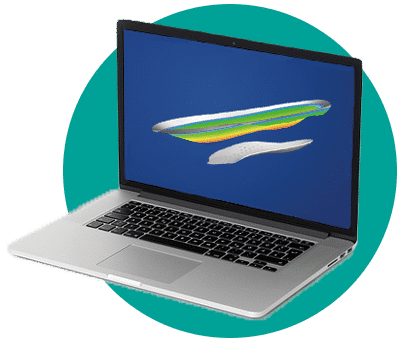 Étape 1 : Prise d'empreinte
Scanner le pied de votre patient en charge ou en semi-charge.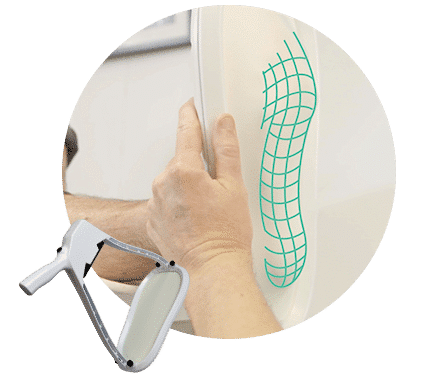 Étapes 2 : Modélisation 3D
Faite votre diagnostic et configurez la semelle sur notre logiciel intuitif.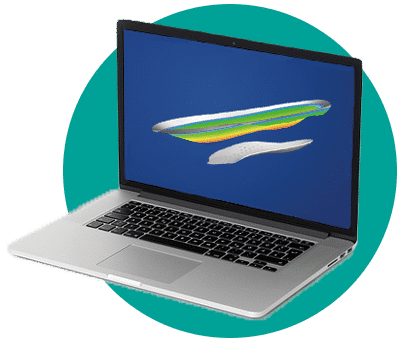 Les semelles sont livrées en France et à étrangers directement dans votre cabinet.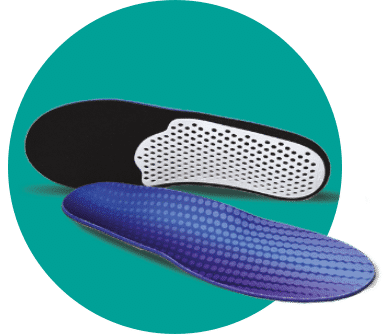 An expertise in orthopaedic insoles
At ScientiFeet, our journey begins with a profound understanding of orthopaedic insoles. We bring together a team of foot experts dedicated to the science of foot support, biomechanics, and 3D design.
Our expertise as a leading 3D printed insoles manufacturer enables us to craft medical devices with our unique 3D technologies that are not merely accessories but essential components of your well-being.
A 3D printing technology at the service of podiatrist and chiropodist diagnosis
A 3D model of the foot helps us to create the perfect insole, ensuring each pair of insoles is tailored to individual needs. Scientifeet's commitment extends beyond individuals seeking comfortable insoles. As an expert 3D printed insoles manufacturer, we are equally dedicated to supporting healthcare professionals, including podiatrists and chiropodists.
ScientiFeet's support for healthcare professionals
By partnering with ScientiFeet, healthcare professionals gain access to state-of-the-art technology that aids in patient diagnosis and treatment planning. Through our 3D printing company, we ensure that every customized insole is crafted to perfection. Our 3D printed insoles can be instrumental in addressing a wide range of foot-related issues, ensuring that both practitioners and patients benefit from our innovative approach. 
« Higher level of orthesis finishing than other 3D systems »
« Finally a real time saver! »
« The ScientiFeet insoles are aesthetic, we have a real gain of space in the shoes »
Discover 3D foot scan technology
Create your insoles with the ScientiFeet app
Your soles are printed by laser sintering Prodways
Finishing your soles with top covers
Consult our documentation to understand everything about the ScientiFeet 3D printing solution.
A complete printing process
Here's an overview of the digital manufacturing process of crafting Scientifeet's 3D printed insoles:
Scanner:

 The advanced 3D scanners and 3D scanning technology capture the precise measurements and contours of the feet

Modelling:

 A digital model of custom insoles is created using the data obtained from the scan

Print:

 Our company doesn't just print shoe insoles, we make sure that every detail is perfect, using high-quality materials in the 3D printing process, ensuring precision and durability

Finishing:

 After the production of orthopaedic insoles, the final product is carefully inspected and refined to meet the highest standards of quality and comfort
The benefits of choosing ScientiFeet's 3D printed insoles over standard insoles are abundant:
Customization is at the heart of our insoles, ensuring a perfect fit and optimal support
Our 3D printers use cutting-edge materials coupled with advanced technology, guarantee unparalleled comfort and durability
Whether you're an athlete seeking performance enhancement or someone dealing with various foot conditions, our 3D printed insoles provide a superior solution
Absolutely. Scientifeet's 3D printed insoles are designed to address various foot conditions and leg pain, including flat feet, high arches, and more. Each pair of insoles is tailored to meet the unique individual needs considering body weight, foot shape, and other specifications. Whether you require extra arch support, cushioning, or relief from specific pressure points, our orthotic insoles are ideal.
Scientifeet emerges as a leading 3D printing service for custom-made orthotics in the 3D printing industry. Our dedication to crafting 3D printed insoles that cater to individuals and healthcare professionals alike sets us apart in the industry as a 3D printed insoles manufacturer. Experience the future of comfort and support with Scientifeet.