Receive our soles directly at your home.
Take part in a demonstration
Learn how to use solutions.
Start your trial period without any commitment.
When it comes to foot comfort, support, and overall well-being, orthotic insoles hold a key place. ScientiFeet is a reliable 3D printed insoles manufacturer, specializing in designing and production of insoles that redefine orthopedic care. With a profound understanding of foot health and cutting-edge 3D technologies, we offer a 3D printing service that caters to custom needs, ensuring that every custom orthotic insole matches perfectly.
We cater to both individuals seeking comfort and healthcare professionals requiring precise diagnostics. Let's explore what makes ScientiFeet a leader in 3D printed foot orthotics.
Step 1: Create 3D insoles
Scan your patient's foot.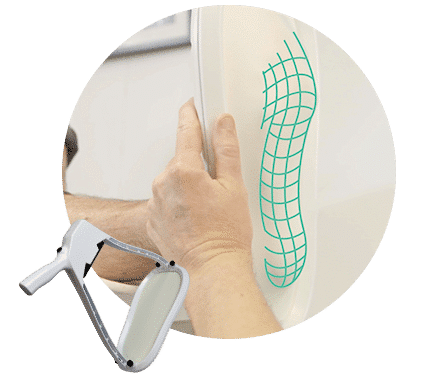 The soles are delivered in France and to foreigners directly in your office.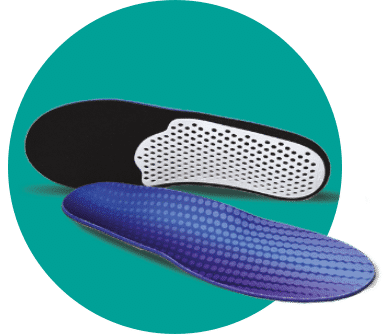 Make your diagnosis and configure the sole on our intuitive software.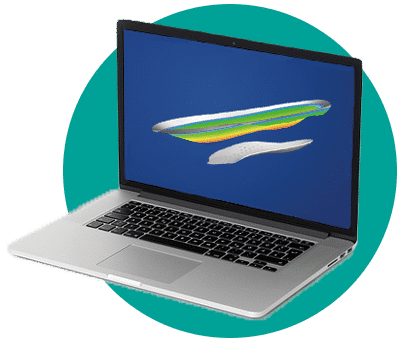 Step 1 : Create 3D insoles
Scan your patient's foot.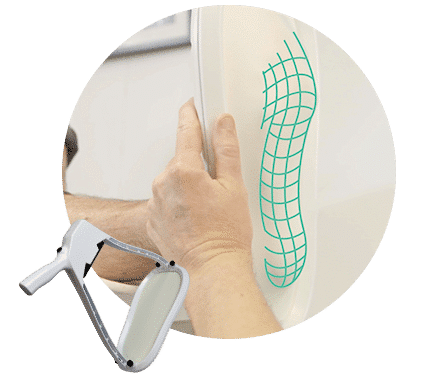 Make your diagnosis and configure the sole on our intuitive software.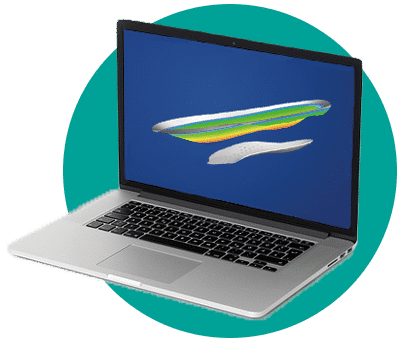 The soles are delivered in France and to foreigners directly in your office.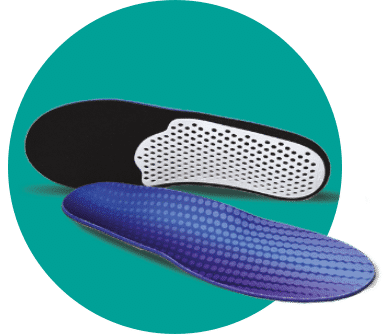 A specialist in orthopedic insoles
At ScientiFeet, our journey begins with deep-rooted expertise in orthopedic insoles. We have a team of specialists passionate about foot support, biomechanics, and 3D printing techniques. This commitment to excellence ensures that our insoles go beyond mere accessories – they become essential components of your overall well-being, utilizing a range of materials to ensure both comfort and durability.
3D printing technology for podiatrist and chiropodist diagnosis
ScientiFeet extends its support to individuals seeking comfort as well as healthcare professionals, including podiatrists and chiropodists. Our state-of-the-art 3D printing technology is invaluable for designing top-notch medical devices. The entire process is based on accurate assessments and planning treatments effectively.
ScientiFeet's support for healthcare professionals
By partnering with ScientiFeet, healthcare professionals access cutting-edge technology that enhances patient diagnosis and treatment planning. Our custom-made orthotics are crucial in addressing a wide range of foot-related issues, ensuring practitioners and patients benefit from our 3D printing technologies and innovative approach.
« Higher level of orthesis finishing than other 3D systems »
« Finally a real time saver! »
« The ScientiFeet insoles are aesthetic, we have a real gain of space in the shoes »
Discover 3D foot scan technology
Create your insoles with the ScientiFeet app
Your soles are printed by laser sintering Prodways
Finishing your soles with top covers
Consult our documentation to understand everything about the ScientiFeet 3D printing solution.
A complete 3D production process
Here's a brief overview of our production process as a 3D printed insoles manufacturer:
Scanner: Utilizing advanced 3D scanning technology, we run a 3D scan to capture measurements and contours of the feet
Modeling: The data obtained from the scan is used to create a 3D model of customized insoles for the 3D printers
Print: The 3D printing process involves layer-by-layer construction of 3D foot models, employing a diverse range of materials to ensure maximum durability and precision
Finishing: The final product undergoes a thorough inspection and refinement to meet the highest standards of quality and comfort
The advantages of choosing ScientiFeet's 3D printed insoles over conventional options are numerous:
Get custom insoles, providing a perfect fit and optimal support for your specific requirements
We employ state-of-the-art materials and 3D printers to guarantee unparalleled comfort and durability
Our 3D printed insoles provide unique solutions for professional athletes looking to boost performance and those grappling with foot pain
Absolutely. Studies reveal that around 58% population suffering from foot pain uses foot orthotic insoles. ScientiFeet's 3D printed insoles are designed to address various foot conditions, including flat feet, plantar fasciitis, and more. Each pair of insoles is tailored to meet the unique needs of the individual wearer.
Our dedication to crafting 3D printed insoles sets us apart. With advanced technology and a commitment to addressing specific leg muscle pain and other foot conditions, ScientiFeet is transforming the approach of personalized insoles. Experience the future of comfort and support with us!