The first portable 3D scanner applied to podiatry made in collaboration with Podiatrists.
We offer two light 3D scanning devices that allow for use at home (with or without Internet connection), on the sports fields or in retirement home:
The PodoClic V1 : more
The PodoClic V2 :  In development
The two devices can create a 3D footprint accurate to 0.02 mm thanks to the infrared depth
sensor that provides great accuracy and new  possibilities.
Both devices use our specific soft membrane system for an optimal position of the position of the patient's foot to create a fitting that provides comfort and correction.
The impression is taken instantly and can be reused over and over again from your
customer area.
What makes our devices different?
Our plantar scans are based on an elastic membrane that allows us to collect the soft tissues of the foot.
In this way, we can recreate the patient's foot in a real situation and simulate the situation inside the shoe for a better diagnosis, and a perfectly adapted 3D insole.
Discover how to take an impression with the scanner in video:
PodoClic V1, Manual impression
PodoClic is our lightest device. Thus, it allows a use at home (with or without Internet connection), on the sports grounds or in retirement home. It will help you to always propose a better service to the patient. By applying the membrane on the foot of the patient, you define directly the load applied and can control the position of the foot.Also, the PodoClic allows to scan an impression box or a vacuum cushion and adapts to your impression material.
With regard to the technical specifications:

Intel 6th generation CPU recommended




Windows 10® is needed

It works on USB 3.0 port

Operating conditions: between 0 and 35°C

Infrared laser emitting at a wavelength of 860nm in nominal

Laser Class 1, IEC 60825-1: 2014 Ed 3
PodoClic V2, Assisted impression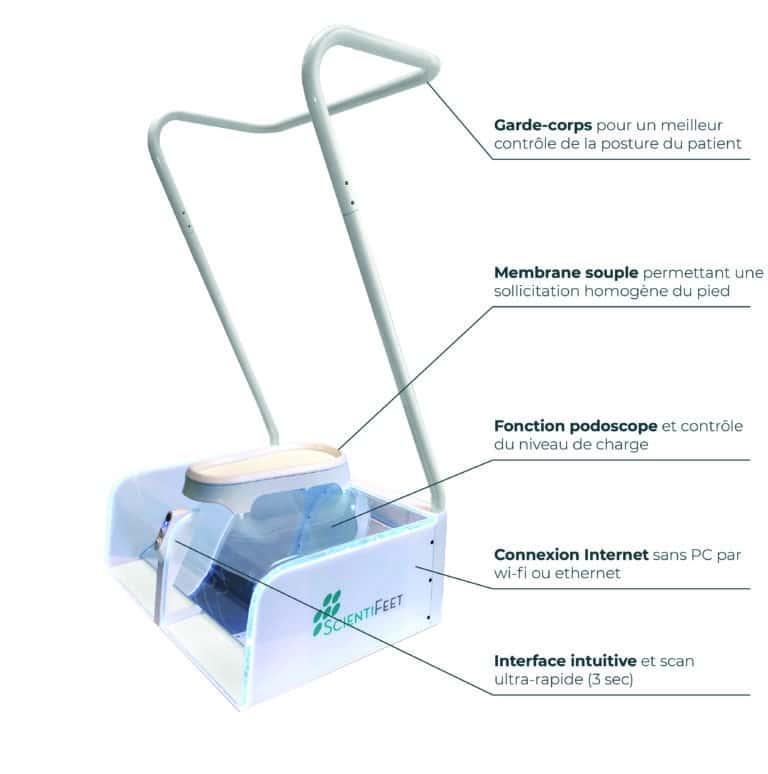 Take part in a demonstration